II. Yoga and Lower Back Pain Relief
III. Iyengar Yoga and Spinal Pain Relief
IV. Yoga and Knee Osteoarthritis Pain Relief
VI. A Possible Solution to Pain
Yoga and Chronic Pain
Pain is a vague term. Pain may differ from person to person in terms of severity and personal experience. Those who experience chronic pain may feel discouraged and unmotivated to find a solution.
The medical community may offer solutions to pain, such as prescription and non-prescription medications. Although this may provide temporary relief, it is not necessarily a solution to pain.
There is an alternative approach to pain management that is becoming more widely accepted as a professional option to treat chronic pain.
Yoga is now being considered a branch of complementary alternative medicine. Recent studies have shown positive outcomes where yoga is being used as a treatment against non-specific pain. Not only is yoga demonstrating its ability to reduce pain, but it may also help minimize functional disability of the spine. [1]
Continue reading as we discuss yoga's implications in back pain and osteoarthritis pain relief. Lastly, chair yoga is touched upon as an accessible form of movement to help with pain management.
Yoga and Lower Back Pain Relief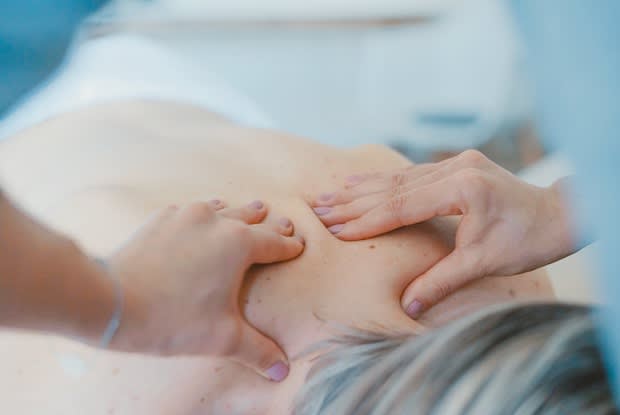 Lower back pain is common and can be potentially disabling for those who experience it. The current guidelines suggest that exercise therapy may be beneficial for those who experience chronic low back pain.
JOIN MAILING LIST
Get savings updates for Prescription Medications
Specials offers, medication updates and health news delivered right to your inbox.
Yoga can be considered a form of exercise therapy that often combines physical movements and mindfulness techniques such as breathing exercises and meditation. Yoga is not just a physical remedy but is considered to use a holistic mind-body approach to treatment.
One study looked into the effects of yoga for treating chronic non-specific low back pain. The study was a literature review of current scientific research looking at yoga and low back pain treatment. Twelve trials were included in the study (1080 participants), and most trials used Iyengar and Hatha forms of yoga.
The study conclusions reveal that yoga groups demonstrate improvements in back-related function at three and six months intervention. The study suggests as well that yoga may be useful for low back pain relief at three and six months. [2]
It is important to note, however, the risk of adverse events in yoga, as it is mentioned in this study. Yoga may be an effective means of achieving low back pain relief. Still, it is crucial to seek professional guidance from a certified yoga practitioner to reduce the risk of injury.
Another study created three control groups: a yoga group, a physical therapy group, and an education group. The study compared these control groups to determine their effectiveness in treating patients with chronic low back pain.
At twelve weeks intervention, the study revealed impressive results; the yoga and physical therapy groups were 21 percent less likely, compared to the education group, to use pain medication at twelve weeks. These findings suggest that yoga and physical therapy may help manage symptoms of chronic low back pain. [3]
Iyengar Yoga and Spinal Pain Relief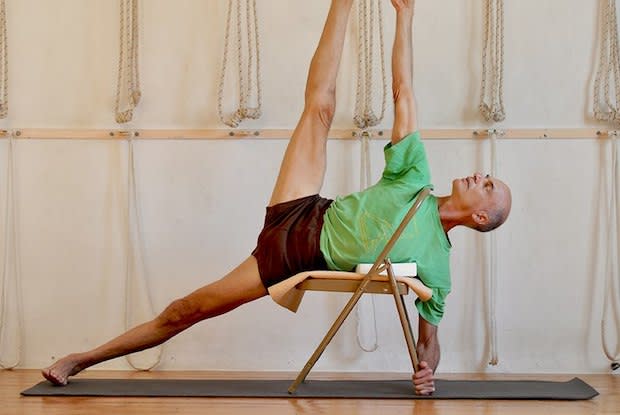 Iyengar Yoga is a style of yoga that is widely practiced throughout the world today. A study from 2015 from the International Journal of Yoga conducted a literature review of existing research within Iyengar yoga.
The literature review revealed 53 studies that focused on treating spinal pain with a regular yoga practice. The objective of the study was to understand the Iyengar yoga method's effectiveness in relieving neck and back pain. In the context of this study, neck and back pain is defined as spinal pain. In summary, the findings of this study show there was a significant reduction in pain intensity in the yoga group. [1]
Muscle tension is often a significant contributor to back pain. Our body is an interconnected web — tightness in one area, such as the hips, may contribute to tension elsewhere, such as the lower back. Yoga helps the muscles to stretch and release tension, freeing up other areas in the body as well. [4]
The authors of the Iyengar yoga study speculate that yoga might enhance a relaxation response. The relaxation response may contribute to a reduction in stress-related muscle tension and pain perception. Based on these findings, Iyengar yoga is considered a safe, effective treatment option for chronic spinal pain.
From a holistic standpoint, yoga is more than just exercise. Yoga may help improve body awareness and teach us the tools necessary to deal with pain in a manageable, healthy way.
Yoga and Knee Osteoarthritis Pain Relief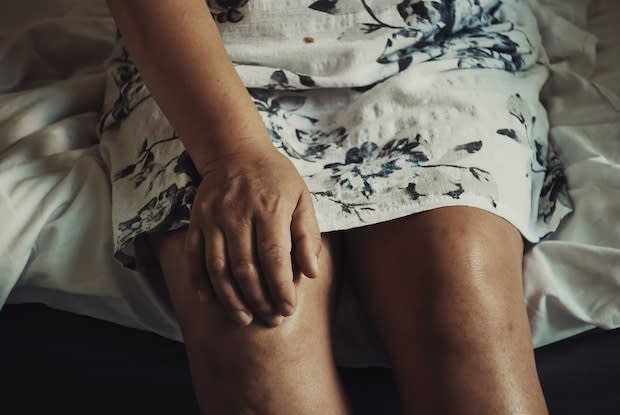 Knee osteoarthritis (KOA) is characterized by degeneration of the knee's cartilage — the flexible material that normally protects bones from friction and impact. [5]
Symptoms of KOA may include pain, swelling, stiffness, limited joint mobility, and a decline in the ability to balance. Inflammation associated with KOA is said to impair the function of synovial fluid, which is meant to lubricate and protect the join. The negative consequences of inflammation are closely related to the development of osteoarthritis.
Suffice to say; KOA can be painful and inhibit quality of life. A study from 2016 evaluated the effect of yoga on pain, mobility, and quality of life in subjects with KOA. This study focused on muscle strengthening, as well as regaining balance deficits and stress management — important factors that affect the mobility of KOA patients. [6]
Previous studies have demonstrated how yoga can increase muscle strength, stamina, steadiness, and flexibility — important implications for patients with KOA. [7][8]
Pain and stiffness are major symptoms of KOA, and can negatively impact mobility and quality of life. In the Mobility section of this study, the review demonstrates that overall, yoga has a positive effect on mobility. The longer the duration of the yoga intervention, the better the results were for improved physical mobility. [6]
In the Pain section of this study, yoga proved to have a positive effect on pain relief in subjects with KOA in all of the included studies. These findings alone support the application of yoga as a therapeutic intervention for patients with KOA, especially for pain management. [6]
Subjects also reported improved body awareness post-yoga sessions, which may positively influence balance. Subjects showed improvements on repeated chair stands, which may have positive effects on balance in people with KOA.
Not only does KOA create stiffness and pain, but it also negatively impacts quality of life. Mental health has a considerable effect on one's perceived quality of life. Yoga is commonly known for its potential to influence mental health positively.
Many studies show how yoga can have positive effects on depression, stress reduction, and anxiety. [9][10]
One study that was analyzed in this literature review showed improvements in mental health scores — this means that yoga may positively affect the mental health of individuals with KOA.
This systematic review of the current literature is interesting as it outlines the scope of positive health effects yoga can have on patients with KOA. In the context of this study, yoga helped improve quality of life and mental health scores, mobility, balance, and strength in subjects with KOA.
Yoga has positive effects on pain relief in subjects with KOA. This finding alone should be enough to support yoga as an added lifestyle change to help mitigate one's experience of pain.
Chair Yoga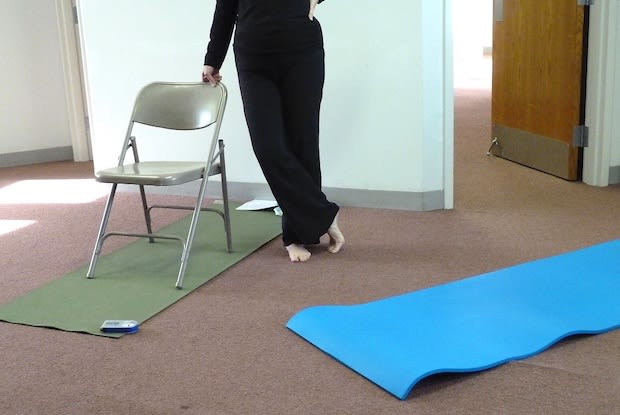 Chair yoga has similar benefits to mat-based yoga practice but from the comfort of a chair. Chair yoga is a gentle, accessible approach where many yoga shapes are modified. A forward fold or a twist can both be done seated to help improve mobility and flexibility of the body's tissues and joints and to maintain spinal health as we age.
One study looked at a chair yoga program for community-dwelling older women with low physical activity levels. The study investigated the effectiveness of a 12-week chair yoga program for improving functional fitness and well-being in its subjects.
The results of this study showed a significant improvement in handgrip strength, upper limb muscle strength, lower limb muscle strength, static balance, agility, and dynamic balance, and well-being post-intervention. Increases in strength and balance may positively influence one's experience of pain intensity. Strength and balance as we age are vital in maintaining a high quality of life. [11]
A chair yoga intervention is a simple and inexpensive approach to physical exercise for older adults. This study shows how a chair yoga program, over the course of several weeks, can improve functional fitness and well-being in older women.
A study published in the Journal of the American Geriatrics Society looked at the effects of a chair yoga program on older adults. The objective was to determine how chair yoga influences measures of pain and physical function in older adults with lower extremity osteoarthritis. The older adults in this study were given chair yoga as an intervention option because they were not able to participate in standing exercise. [12]
The chair yoga intervention consisted of twice-weekly 45-minute sessions for eight weeks. The results of this intervention are promising in terms of pain relief.
The 8-week chair yoga intervention demonstrated reductions in pain, pain interference, and fatigue at the end of the eight weeks. The chair yoga program also showed improvements in gait speed in the study subjects.
The study concluded in saying that chair yoga should continue to be explored as an alternative therapeutic intervention for older people with lower extremity osteoarthritis.
If you are curious to try a chair yoga class from the comfort of your own home, this chair yoga video by Yoga for Adriene is a great place to start.
A Possible Solution to Pain
There is a growing body of evidence suggesting that yoga may help with chronic pain conditions. The medical community should be aware that yoga could be useful as a tool to help patients manage and minimize the negative experiences of chronic pain. [13]
Yoga may help relieve chronic back pain. Yoga may also significantly reduce the experience of pain for subjects with osteoarthritis, especially knee osteoarthritis. Not only can yoga help ease pain, but it is also implicated in improving mental health — yoga can have positive effects on depression, stress reduction, and anxiety. [9][10]
Chair yoga is an accessible, sustainable approach to maintain physical movement as we age. The benefits of chair yoga on strength building and pain management should not be ignored. Chair yoga can be viewed as a possible solution to a lack of movement as we get older.
The content in this article is intended for informational purposes only. This website does not provide medical advice. In all circumstances, you should always seek the advice of your physician and/or other qualified health professionals(s) for drug, medical condition, or treatment advice. The content provided on this website is not a substitute for professional medical advice, diagnosis or treatment.