Table of Contents
---
a. Basal Cell Carcinoma Symptoms
b. Basal Cell Carcinoma Causes
a. Squamous Cell Carcinoma Symptoms
b. Squamous Cell Carcinoma Causes
a. Treating Basal Cell Carcinoma and Squamous Cell Carcinoma
---
Overview
Skin cancer is the most common form of cancer in the United States. In 2020, it is estimated that over 100,000 people in the US will be diagnosed with skin cancer. Around 20 percent of Americans will develop a form of skin cancer at some point during their life. [1] [2]
Cancer is a wide range of diseases that involve mutating cells in the body. If this occurs, and cells are not able to repair themselves, then the mutated cells continue to grow and multiply, creating a tumor. A common misconception is that all tumors are cancerous. Tumors may be benign or malignant, but only malignant tumors are cancerous. Malignant tumors can spread to other areas of the body and invade nearby tissue. [2] [3]
The three main types of skin cancer are basal cell carcinoma (BCC), squamous cell carcinoma (SCC), and melanoma. BCC and SCC are often linked as non-melanoma skin cancers. It is important to note that BCC, SCC, and melanoma are all types of skin cancer, and there are several types of each cancer. Keep reading to learn more about skin cancer, including the symptoms, causes, and how they are treated using medications such as fluorouracil (Efudex) or imiquimod (Aldara).
Basal Cell Carcinoma
Basal cell carcinoma (also known as basal cell skin cancer or BCC) is the most common type of skin cancer and makes up around 80 percent of cases. [4]
a. Basal Cell Carcinoma Symptoms
The most obvious signs of basal cell carcinoma are bumps and lesions on the skin. These can take the appearance of flat, brown, or flesh-colored scars and may be raised or feel waxy to the touch. Another sign of BCC is a sore that bleeds or scabs over and then returns after healing. [5]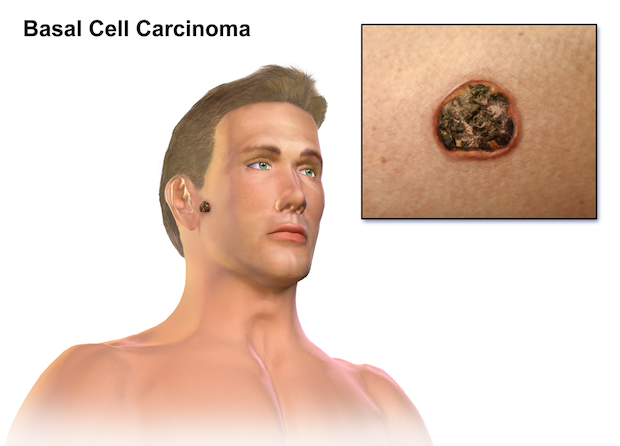 b. Basal Cell Carcinoma Causes
Basal cell carcinoma usually develops following many years of sun exposure or other means of skin tanning. This form of skin cancer can form in any area of the body but is most common in the head, neck, and arms. [6] BCC typically grows slowly and is unlikely to spread to other areas of the body. However, if it is not treated effectively, then it may invade other nearby tissue. BCC can recur in the same area of the body if it is not completely removed during treatment. Basal cell carcinoma occurs in the basal cells, which are a type of skin cell that produces new skin cells as older cells die.
Squamous Cell Carcinoma
Squamous cell carcinoma (SCC) is the second most common form of skin cancer. Squamous cells make up the middle and outer layers of the skin. [7]
a. Squamous Cell Carcinoma Symptoms
A common symptom of squamous cell carcinoma is a well-defined, red, thick, and scaly bump on the skin. This bump may ulcerate or bleed and may grow larger if left untreated. [2]
As with BCC, signs of SCC are most commonly found in the areas of skin that are exposed to the sun. This includes your head and the back of your hands. However, SCC can occur on any part of the body, including places less likely to be exposed to UV light, like the bottom of your feet, genitals, and the inside of your mouth. [7]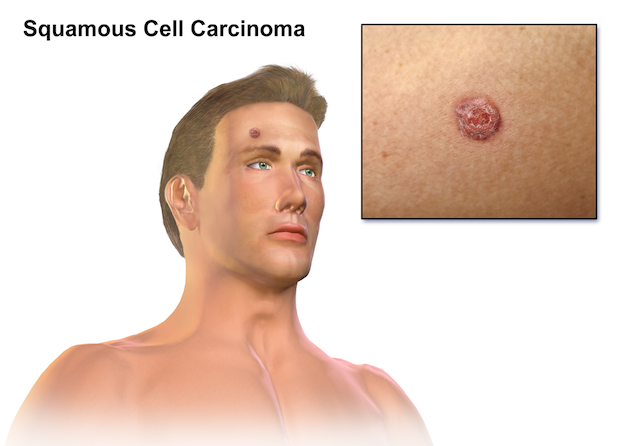 b. Squamous Cell Carcinoma Causes
Most forms of SCC are caused by extended exposure to UV light. This may be the result of excessive sunlight, or from UV tanning beds or lamps. As mentioned, not all SCC cancers develop in areas exposed to sunlight. Researchers believe that having a weakened immune system may also lead to this form of cancer. [7]
Melanoma
Melanoma is more likely to spread than BCC or SCC and is, therefore, known as the most serious form of skin cancer. [6]
a. Melanoma Symptoms
Typically, the first symptom of melanoma is new, unusual-looking growth on the skin, or changes to an existing mole. This can include changes to the size, shape, or color of the mole. Not all forms of melanoma develop from moles so you should speak to your doctor if you notice any new or unusual skin growths. [8]
b. Melanoma Causes
The exact cause of melanoma is not known. It occurs when there is a problem in the cells that produce melanin. Melanin is a pigment in the skin and hair that is responsible for giving color to the skin when tanning. It is believed that melanoma is a combination of environmental and genetic factors. Similarly to BCC and SCC, exposure to ultraviolet light (UV) increases your risk of this disease. [9]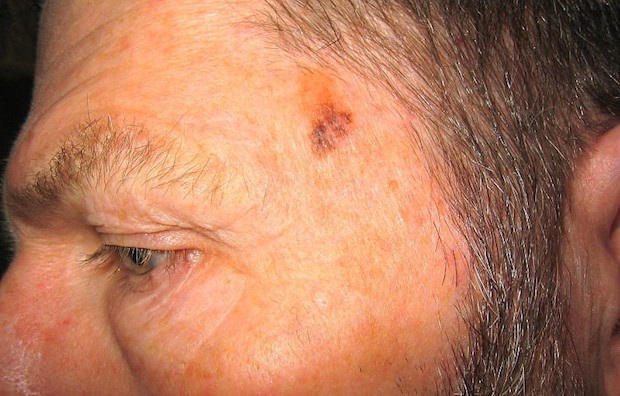 Treating Skin Cancer
a. Treating Basal Cell Carcinoma and Squamous Cell Carcinoma
Most BCCs and SCCs can be treated when detected early. The longer you have worrisome mole or scab, the larger the tumor can grow and the more dangerous it becomes. There are several forms of treatment available, including forms of surgery, electrosurgery, laser surgery, and radiation therapy. [10] [11]
For some BCCs and SCCs, your doctor may suggest a topical medication such as fluorouracil (Efudex) or imiquimod (Aldara). These creams are applied directly to the affected area. Fluorouracil is topical chemotherapy that kills cancerous cells while imiquimod works by activating the body's immune system to attack cancer. [10] [11]
b. Treating Melanoma
The treatment for melanoma depends on your overall health and the location and stage of the disease. If this form of cancer is still in an early stage and there is no evidence that it has spread, then surgical removal of the tissue is sufficient. For more severe melanoma, additional treatment may also be required. This may include immunotherapy, targeted therapy, chemotherapy, and radiation therapy. [12]
The content in this article is intended for informational purposes only. This website does not provide medical advice. In all circumstances, you should always seek the advice of your physician and/or other qualified health professionals(s) for drug, medical condition, or treatment advice. The content provided on this website is not a substitute for professional medical advice, diagnosis or treatment.