Table of Contents
---
I. What Are Bacterial Skin Infections?
a. What are Boils and Carbuncles?
b. Causes of Boils and Carbuncles
c. Treating Boils and Carbuncles
---
What Are Bacterial Skin Infections?
The skin is the largest organ of the human body and has three primary functions:
To detect external sensations such as heat, pain, and touch.
To regulate body temperature and fluid balance.
To protect the body from substances, including chemicals and micro-organisms. [1]
Although one of the main roles of skin is to protect the body and organs from harmful substances, the skin itself can become infected. A report in 2013 showed that over 40 million Americans sought medical treatment for a skin infection during that year. [2]
Despite this, the skin is an incredibly effective barricade against infections, and, usually, bacteria that touch or reside on the skin do not cause a bacterial infection. [3] There are several different types of bacterial skin infections. These infections typically look like small, red bumps but may get bigger over time. [4] Keep reading to learn more about the causes and symptoms of bacterial skin infections along with antibiotics such as Vancocin (vancomycin), Bactroban Ointment (mupirocin), Amoxil (amoxicillin), and Augmentin (amoxicillin/clavulanate).
JOIN MAILING LIST
Get savings updates for Augmentin
Specials offers, medication updates and health news delivered right to your inbox.
Boils and Carbuncles
a. What are Boils and Carbuncles?
Boils are single bumps that form under the skin and are filled with pus. Carbuncles are a collection of boils that form in a close area from a connected infection underneath the skin. [5] Boils form when bacteria infects and inflamed hair follicles.
While boils typically start as red bumps in the skin, they rapidly increase in size and become painful as they fill with pus. Boils and carbuncles are most commonly found in the face, neck, armpits, thighs, and buttocks. [5]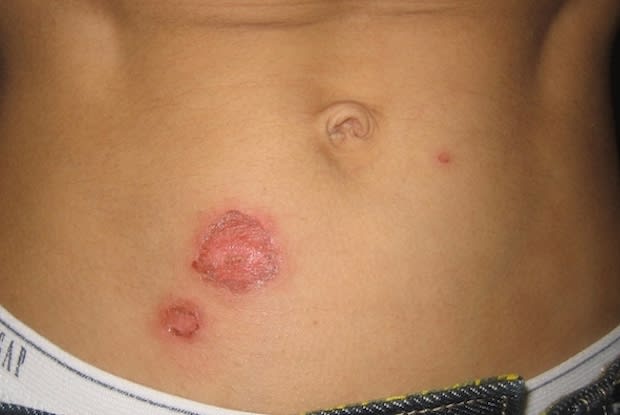 b. Causes of Boils and Carbuncles
Boils are typically caused by a bacterium known as Staphylococcus aureus. Boils are often found in areas where the skin is broken, as this allows the bacteria to enter more easily. [5] Boils and carbuncles are also more common in people that live with or come into contact with others that have boils.
Other risk factors for developing this type of skin infection include diabetes, weakened immune system, and other skin conditions like acne and eczema. [5]
c. Treating Boils and Carbuncles
Most small boils do not require medical attention and will clear up with good hygiene. Larger boils are easily treated with a minor procedure to drain them. However, antibiotics may also be prescribed to treat an underlying infection. A common antibiotic to treat boils is Vancocin (vancomycin). [6]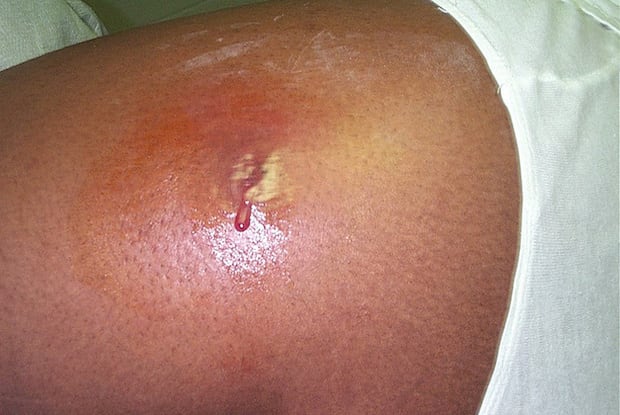 Impetigo
a. What is Impetigo?
Impetigo is a contagious skin infection that commonly affects babies and children but can affect people of any age. Impetigo appears like red sores, which eventually burst and result in honey-colored crusting after a few days. These sores typically develop on the face, hands, and feet. [7] Occasionally, impetigo infections can cause a more serious infection called ecthyma.
b. Causes of Impetigo
Impetigo is usually caused by Staphylococcus aureus, the same bacteria that cause boils. Impetigo is a very contagious infection and is usually caused by coming into contact with someone with the infection. Impetigo can also be contracted by sharing towels, bedding, or clothes. [8]
c. Treating Impetigo
Mild impetigo can be treated by regularly washing with soap and water. It is important that everyone in the household is vigilant with their hygiene and do not share towels or other personal objects.
Impetigo is also treated with topical antibacterial ointments such as Bactroban Ointment (mupirocin). For more serious infections, antibiotics such as Amoxil (amoxicillin) may be prescribed. When taking antibiotics, make sure to follow your doctor's directions and take the full amount of medication prescribed, even when symptoms have cleared. This can help prevent antibiotic resistance.
Cellulitis
a. What is Cellulitis?
Cellulitis is another common bacterial skin infection. This infection initially appears as a red, tender, and swollen area that is hot to the touch. Redness and swelling may then spread rapidly around the body. Often cellulitis is found on the lower legs but can affect any body area. Cellulitis typically affects the surface of the skin but may also infect the tissues underneath. [9] This infection should be treated promptly and may become life-threatening when left alone. If your doctor has prescribed you antibiotics, RxConnected is here to help with affordable pricing and great selection.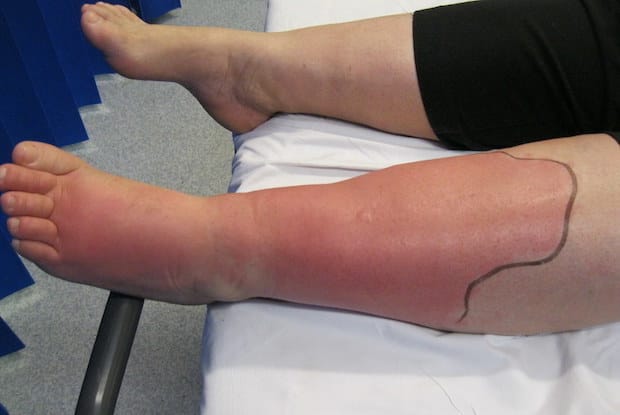 b. Causes of Cellulitis
Cellulitis is a bacterial infection that is caused by bacteria infecting the deeper layers of broken skin. Skin can become broken from cuts, dry skin, or cracked skin. Not all broken skin causes bleeding and some breaks in the skin may not be visible. Unlike some other bacterial infections, cellulitis cannot be caught from other people. [10]
c. Treating Cellulitis
Cellulitis is often treated with penicillin antibiotics. Common medications for cellulitis include Amoxil (amoxicillin) and Augmentin (amoxicillin/clavulanate).
The content in this article is intended for informational purposes only. This website does not provide medical advice. In all circumstances, you should always seek the advice of your physician and/or other qualified health professionals(s) for drug, medical condition, or treatment advice. The content provided on this website is not a substitute for professional medical advice, diagnosis or treatment.