Table of Contents
---
II. Cost of Brand-name Jardiance
III. Save Even More with Generic Jardiance
---
As one of the most popular and effective medications for type 2 diabetes, many patients seek ways to save on Jardiance (empagliflozin). If you are looking for affordable treatment, you'll be pleased to know that you can save much more on Jardiance with an online Canadian pharmacy like RxConnected than with health insurance or coupons.
This guide will show you everything you need to know about placing an order for Jardiance on RxConnected. We will review the different dosage strengths you need, how much each strength costs, and the prices for generic and brand-name Jardiance.
Why Jardiance is Expensive
Jardiance comes with a high price tag because of its many uses. The benefits of Jardiance include:
Decreased risk of cardiovascular events, such as stroke or heart attack
Decreased risk of heart failure in patients with type 2 diabetes
Decreased overall blood sugar levels
Increased chance of reversing type 2 diabetes when combined with exercise and a healthy diet
Whatever your reason for receiving a Jardiance prescription, we can all agree that this medication needs to be more affordable. Type 2 diabetes is a prevalent but manageable disease. By lowering costs, RxConnected hopes to make Jardiance accessible to more patients.
Cost of Brand-name Jardiance
Price of Jardiance 10 mg
The lowest available dosage strength of Jardiance is 10 mg. If you are just starting treatment with this medication, your physician will most likely prescribe this strength.
By starting with a lower dose, your body (and kidney function) will have time to adjust to this new medication. The typical schedule for taking Jardiance 10 mg is once daily, ideally in the morning. [1]
The price of Jardiance 10 mg is different for a one-month and a three-month supply. As shown in the screen capture below, 28 Jardiance 10mg tablets cost $115. At this unit price, each tablet costs $4.11.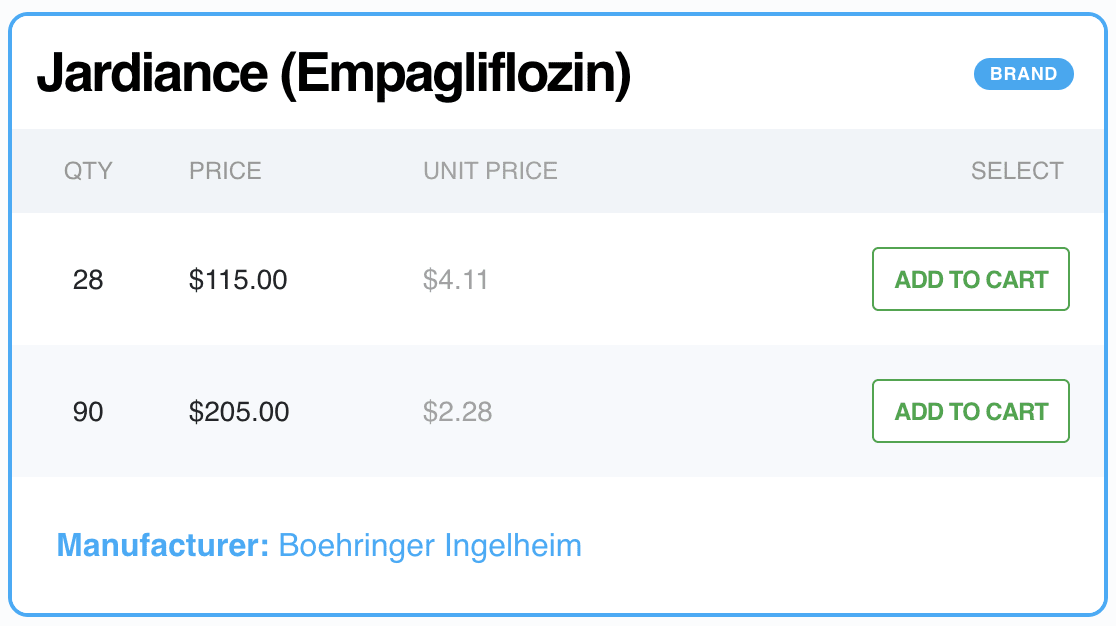 However if your prescription allows, you can save by ordering a three-month supply of 90 Jardiance tablets. Doing so costs $205, lowering the unit price to only $2.28 per 10mg tablet. These prices are accurate as of October 2023. As several factors may cause price fluctuations, you can always view the current price on Jardiance's order page.
Price of Jardiance 25 mg
Jardiance also comes in a stronger dose of 25 mg. You may be prescribed 25 mg of Jardiance if:
1. Your body tolerates the initial dose of 10 mg well or
2. 10 mg of Jardiance does not achieve sufficient blood sugar control
At RxConnected, a month's supply of Jardiance 25 mg costs $120. As the image below shows, 28 tablets of Jardiance 25 mg come down to $4.29 per pill.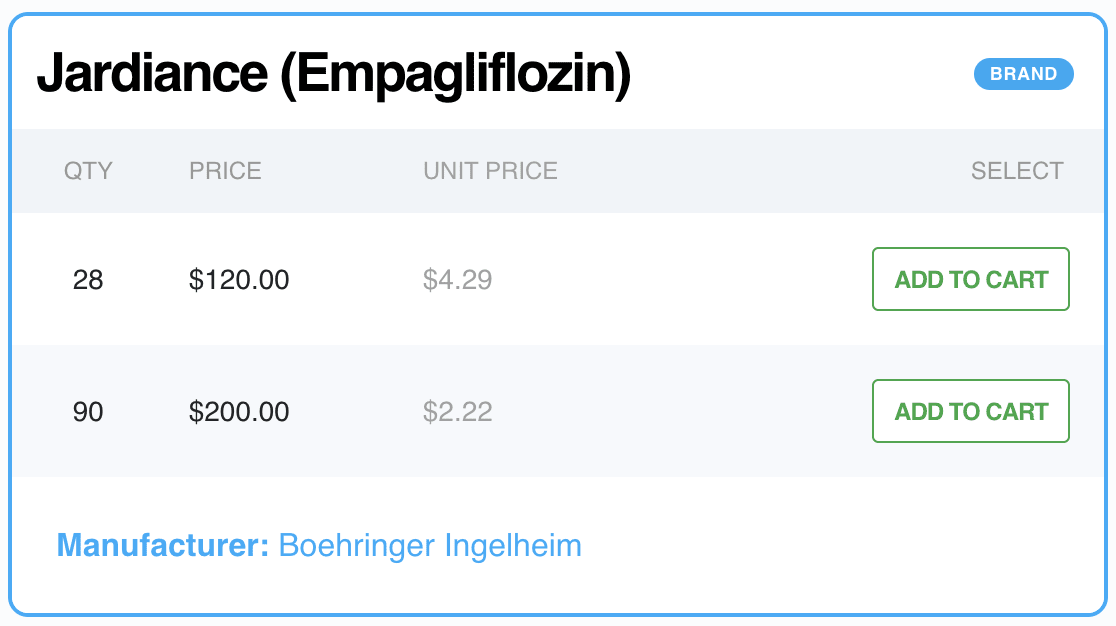 Once again, customers can save almost 50% by purchasing a three-month supply of 90 pills. A three-month supply of Jardiance 25 mg costs $200—or a unit price of $2.22.
The maximum safe dose of Jardiance is 25 mg per day. [1] To avoid serious side effects, stick to your prescription and never increase your dose without consulting your healthcare provider.
Save Even More with Generic Jardiance
You can't find generic Jardiance at your local pharmacy. That is because a generic version of Jardiance isn't available yet in the US.
According to the United States Patent and Trademark Office (USPTO), Jardiance was set to expire on November 11, 2025. However, it has since been granted a patent extension of 1000 days. [2]
But don't worry! You can access the generic version of Jardiance (empagliflozin) through an online Canadian pharmacy like RxConnected. With partnering fulfillment centers around the world, RxConnected is able to bring you empagliflozin at a fraction of the cost.
RxConnected offers empagliflozin in 10 mg and 25 mg dosage strengths. The screenshot below shows that 100 empagliflozin 10 mg pills cost $185, helping you keep your monthly cost under $56.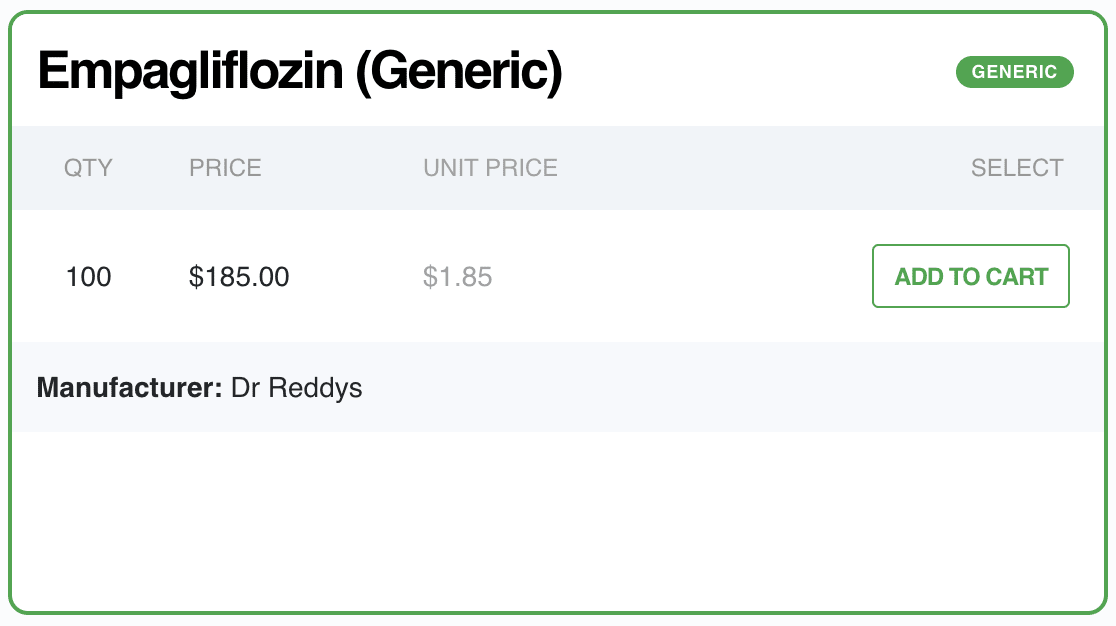 If you require empagliflozin 25 mg, you'll only need to pay slightly more. As you can see below, empagliflozin 25 mg only costs $1.99 per tablet when you order a quantity of 100.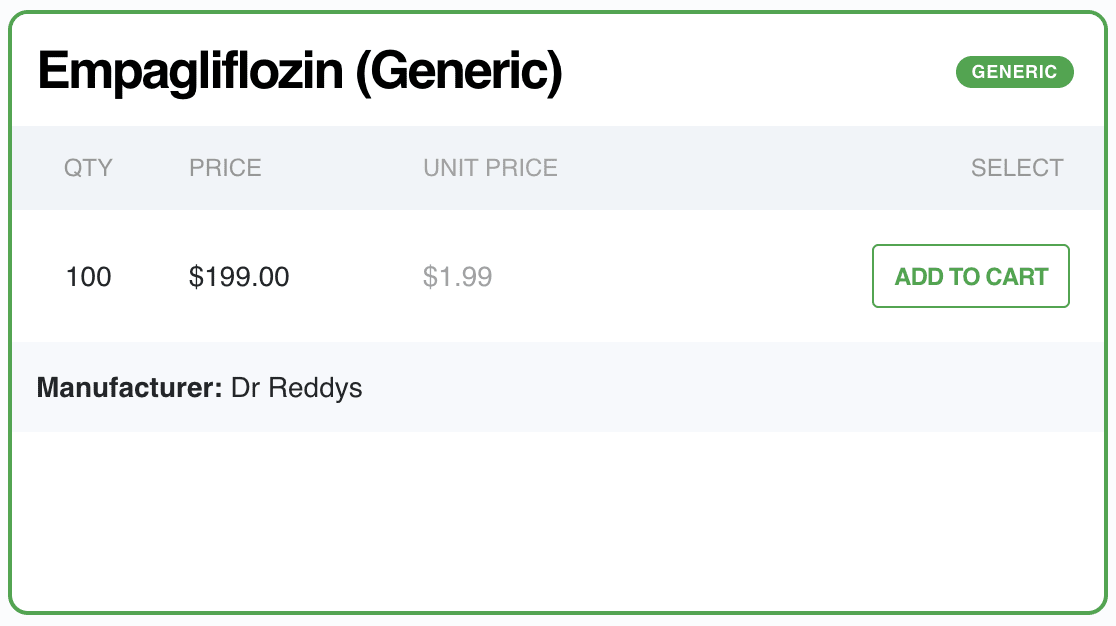 The table below shows how brand-name prices compare to generic prices for Jardiance.

Why Go with RxConnected?
It's simple. RxConnected brings you Jardiance that is significantly more affordable than anything you can find at your local pharmacy. Even with health insurance or coupons, you cannot save nearly as much as you can with RxConnected.
Below is a quick example to show you the huge difference:

Date accessed 2023-10-04
*average cost of 30 pills when ordering a three-month supply.
**average cost when combining monthly premium, deductible, copay, and coverage gap costs.
+yearly combined cost of monthly premium, deductible, copay, and coverage gap
The bottom line is straightforward—RxConnected is the best way to save on Jardiance. No matter which dosage strength you need and whether you want brand-name or generic Jardiance, RxConnected offers the best pricing around so that you can focus on improving your health.
FAQs
How does Jardiance help with type 2 diabetes?
Jardiance (empagliflozin) helps lower blood sugar levels by increasing glucose excretion in urine. However, it's important to note that optimal results are achieved when Jardiance is paired with lifestyle changes such as a healthy diet and exercise. [3]
What is the recommended dosage for Jardiance?
The recommended dosage for Jardiance (empagliflozin) varies based on individual needs and medical conditions. Typically, the starting dosage is 10 mg once daily. If additional glycemic control is needed, the dosage may be increased to 25 mg once daily. [3]
Why Is Jardiance more affordable in Canada?
The Canadian government enforces price restrictions on medications to maintain reasonable drug prices. This approach ensures that Jardiance and other medications remain accessible and budget-friendly for consumers. [4]
Can I access generic Jardiance (empagliflozin) in the U.S.?
Generic Jardiance (empagliflozin) isn't available in the U.S. yet due to a patent extension until 2025. [2] However, Americans can buy empagliflozin through reputable online Canadian pharmacies like RxConnected.
Are there Patient Assistance Programs for Jardiance?
Yes, the manufacturer of Jardiance offers a patient assistance program called BI Cares Patient Assistance Program. This program offers financial support for eligible individuals to help cover medication expenses. Eligibility for this assistance is determined based on specific criteria set by BI Cares.
I've been prescribed Jardiance 10 mg. What's the most affordable option?
With affordability in mind, you will want to go the generic route. RxConnected offers generic Jardiance 10 mg at just $1.85 per tablet when you order a quantity of 100 pills. This works out to a monthly cost of approximately $55, saving you hundreds compared to other pharmacies. Generic Jardiance is a great cost-effective option because it gives you all the therapeutic benefits of brand-name Jardiance at a fraction of the cost. Take generic Jardiance the exact same way you take brand-name Jardiance, as prescribed by your doctor.
I want to buy brand-name Jardiance. How much cheaper is RxConnected compared to using health insurance?
Based on our current offers, you will save up to $645.45 per year on brand-name Jardiance 10 mg by going with RxConnected as opposed to Medicare. This amount relies on ordering the 90-day supply instead of the one-month quantity. With a Medicare plan, you'll need to pay almost $1500 a year for this drug and dosage. While insurance premiums vary between plans, RxConnected lowers this cost to just $820, which keeps your monthly cost under $70 for brand-name Jardiance.
My doctor has increased my Jardiance prescription from 10 mg to 25 mg. Will I need to pay more?
Although an increased dosage comes with a higher price tag, RxConnected has ensured that this increase is minimal. Choosing generic empagliflozin helps keep your costs low, and going from 10 mg to 25 mg will only increase your cost by 14 cents per pill.
The content in this article is intended for informational purposes only. This website does not provide medical advice. In all circumstances, you should always seek the advice of your physician and/or other qualified health professionals(s) for drug, medical conditions, or treatment advice. The content provided on this website is not a substitute for professional medical advice, diagnosis, or treatment.