Table of Contents
---
I. What is Cialis (tadalafil)?
II. What is Viagra (sildenafil)?
III. What is Levitra (vardenafil)?
IV. How to Choose the Right ED Drug
---

Cialis (tadalafil) is very popular at RxConnected, but it is definitely not the only erectile dysfunction (ED) medication of its kind. Our Canadian pharmacy website also sells Viagra (sildenafil) and Levitra (vardenafil), two other similar drugs that treat ED.
You may have quickly noticed that all three of these drugs bear similar names. So what are their differences? And which one should you use?
In this article, we will briefly introduce you to each drug and run through the advantages and disadvantages of each.
What is Cialis (tadalafil)?
Cialis or generic tadalafil is one of our top-selling drugs. Brand name Cialis often comes in yellow, teardrop-shaped pills.
The generic name for Cialis' active ingredient is tadalafil. Tadalafil sold under a separate brand name, Adcirca, can be used to treat an unrelated condition called benign prostatic hyperplasia (BPH).
To learn more about the pros and cons of Cialis (tadalafil) and how it works, check out our introductory article.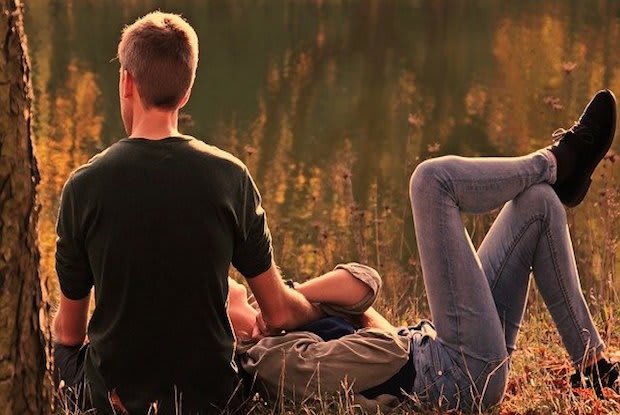 Advantages of Cialis
Perhaps the most attractive advantage of Cialis is the fact that you can take it daily instead of on an as-needed basis. This allows for more sexual spontaneity. No need to worry about timing your dose before a sexual event!
JOIN MAILING LIST
Get savings updates for Cialis
Specials offers, medication updates and health news delivered right to your inbox.
Cialis can remain active for up to 36 hours, which means you can potentially have intercourse anytime within those 36 hours.
For those who don't proactively schedule sexual activity — such as men who live with their sexual partner — Cialis can be a good choice. But those who prefer taking medication on an as-needed basis instead of as an extra daily chore can use Cialis too.
Disadvantages of Cialis
Cialis can stay in the body a lot longer than Viagra or Levitra — in fact, it can remain in your body for more than two days. This can be problematic for those with certain health conditions, such as patients with kidney or liver problems. It may also concern patients who need to take certain medications that interact negatively with Cialis.
What is Viagra (sildenafil)?
Viagra or generic viagra is perhaps the world's most well-known erectile dysfunction drug. Pfizer first marketed the "little blue pill" in 1998 and it became the fastest selling drug in history. Interestingly, sildenafil was discovered by mistake. Pfizer was originally researching a drug that could treat angina by relaxing blood vessels. Then, during testing, the company noticed that many of their test subjects reported erections (BBC).
One mention of the word "Viagra" brings to mind many connotations. There are also many misconceptions about Viagra; some people still believe it's a performance-enhancing drug or that it makes you want to have sex more.
While ED drugs are performance-enhancing in the sense that they enable you to achieve the erection necessary for intercourse, they are not recreational drugs. ED drugs don't make someone "better" in bed or increase their desire for sex.
Advantages of Viagra
Sildenafil (Viagra) is often the first [ED] drug your doctor offers. It's been on the market longest and its side effects and the medications and foods it interacts with are well known. - Harvard Health Publishing
According to one source, sildenafil has been shown to work for 69% of people with ED. So there's a good chance this drug will work for you. You may also have better peace of mind taking Viagra. The little blue pill has been on the market for a little over two decades and has been researched extensively. That means the medical establishment knows a lot more about its advantages and disadvantages than newer drugs.
Disadvantages of Viagra
Unlike Cialis, Viagra doesn't have the option to be taken on a daily basis. Therefore, a little pre-planning needs to happen prior to each sexual event. Some patients may understandably find timing sex rather un-sexy.
On the social front, because Viagra is such a famous drug, admitting its use can make some patients feel embarrassed or uncomfortable.
On the other hand, Viagra patients may be met with snide remarks or even wink-wink demands from other men to try their medication. (By the way, never share your medicine!) A simple solution to this is to refer to Viagra by its lesser-known generic name, sildenafil, or to not mention you take an ED drug at all. After all, it's nobody's business but yours.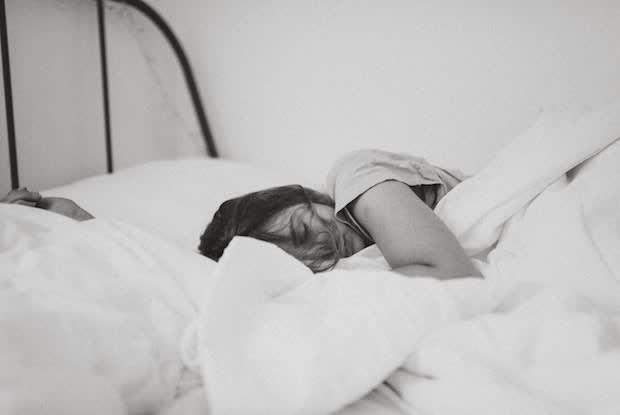 What is Levitra (vardenafil)?
Levitra or levitra generic is another ED drug available for sale through RxConnected. Like sildenafil and tadalafil, vardenafil is a phosphodiesterase (PDE) inhibitor that aids blood flow to the penis. It can come in either a standard tablet or a dissolvable tablet, and can be taken as needed about an hour before engaging in sex.
Advantages of Levitra
Interestingly, Levitra is ten times more biochemically potent than Viagra, which means a smaller dose can be used. This smaller dose may mean fewer side effects experienced by the patient. With a half-life of four to six hours, vardenafil also has a slightly longer half-life than its two peers, meaning it will stay in your body slightly longer.
Vardenafil can be effective for four to five hours in patients with mild to moderate ED. Eating foods high in fat can also keep it from being absorbed too quickly.
Disadvantages of Levitra
Because it's a lesser-known drug, health-care providers may not be as aware of Levitra's pros and cons as its more established cousins.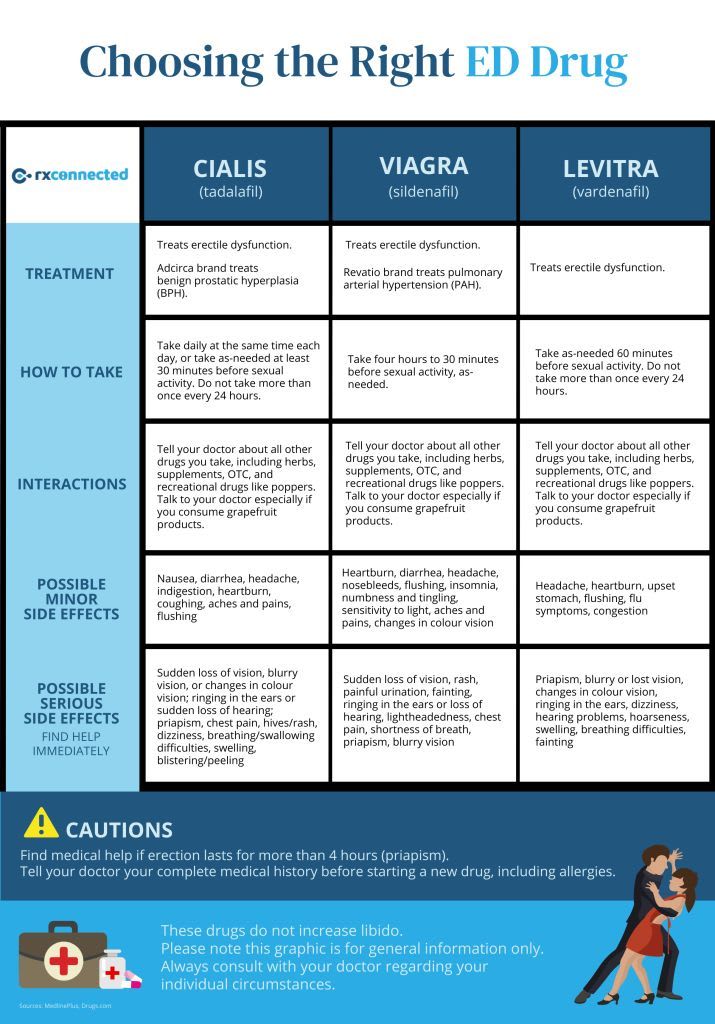 How to Choose the Right ED Drug
As you can see, Cialis, Viagra, and Levitra are all very similar yet very different medications designed to remedy the same health condition.
There really is no one-size-fits-all answer to which drug is the best. Whether or not a certain drug works well for you depends on your medical history, physical characteristics (age, health, family history, etc.), and lifestyle. So make sure you have an open and thorough dialogue with your doctor. Don't be afraid to ask questions.
While we cannot replace your doctor-patient relationship with your health-care provider, RxConnected does provide its customers with access to a licensed pharmacist should they have any questions.
DISCLAIMER: The content in this article is intended for informational purposes only. This website does not provide medical advice. In all circumstances, you should always seek the advice of your physician and/or other qualified health professionals(s) for drug, medical condition, or treatment advice. The content provided on this website is not a substitute for professional medical advice, diagnosis or treatment.