Table of Contents
---
II. When should you take Cialis?
III. How long does Cialis last?
IV. How long does Cialis stay in your system?
---
Timing is a big part of romance; you want to be good to go when it's time to get going. But things don't always move according to your preferred pace. And when you have erectile dysfunction (ED) and need to take a medication like Cialis (tadalafil) or Viagra (sildenafil), timing your dose can make a real difference on any romantic evening.
So let's take a look at using Cialis for maximum benefit. First things first, let's review what Cialis is.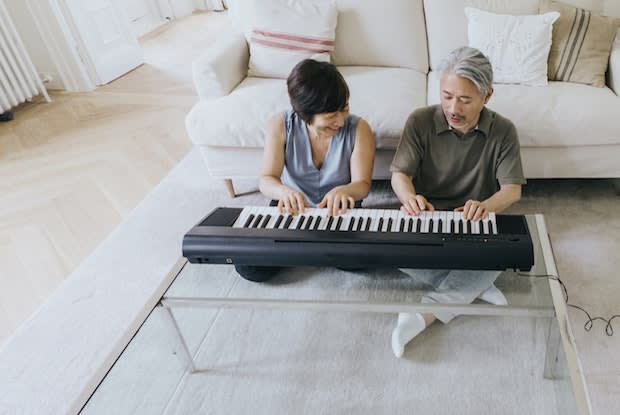 What is Cialis?
Cialis — the generic name of which is tadalafil — is a unique drug for treating erectile dysfunction. Unlike its well-known counterpart Viagra (sildenafil), Cialis (tadalafil) can also treat an unrelated ailment called benign prostatic hyperplasia (BPH). Check out our introductory article if you haven't already to learn some basic facts about Cialis.
When should you take Cialis?
To answer the burning question, Cialis can be taken as needed, generally at least 30 minutes before engaging in sexual activity.
However, Cialis can also be taken once a day at a lower dose every 24 hours, enabling you to engage in sexual activity at any time. [1] This makes Cialis a popular choice for patients who prefer a little spontaneity. If you take Cialis in this manner, try to take your dose at around the same time each day.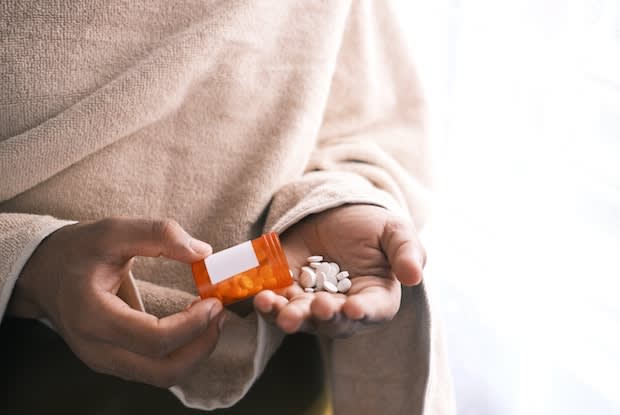 Either way, make sure you discuss with your doctor when and how you should take Cialis. Each person's body is unique, and your doctor may have specific recommendations for you based on your unique biological characteristics and medical history.
JOIN MAILING LIST
Get savings updates for Cialis
Specials offers, medication updates and health news delivered right to your inbox.
How long does Cialis last?
This is another excellent and popular question!
Cialis is said to be effective for up to 36 hours, [2] but of course, your unique mileage may vary. Talk to your doctor about adjusting your dosage if yours is not working effectively for you.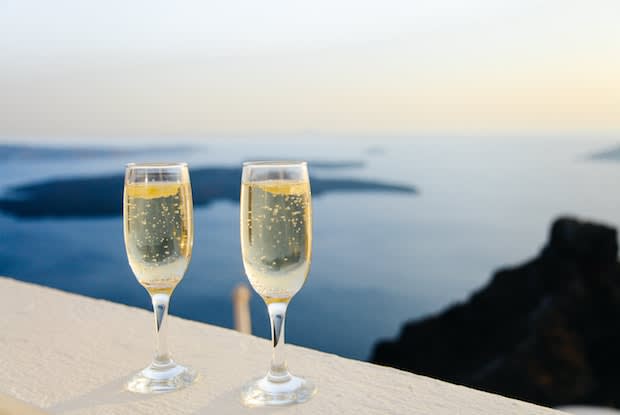 How long does Cialis stay in your system?
Cialis is different from other ED drugs in that it stays in your body for a longer period of time. According to the FDA, the active ingredient in Cialis can stay in the body for more than two days. [2] This lingering time period can be even longer if you also have a kidney or liver condition, or if you take other medications that affect Cialis.
Knowing how long Cialis stays in your system is important if you take other medicines or live with other health conditions. Talk to your doctor for more individualized information.
Summary
Harvard Health Publishing [2] offers the following handy table for understanding the timing of different ED drugs: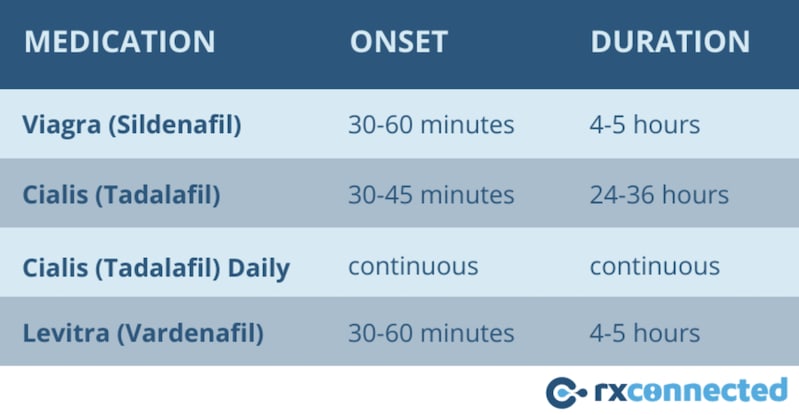 DISCLAIMER: The content in this article is intended for informational purposes only. This website does not provide medical advice. In all circumstances, you should always seek the advice of your physician and/or other qualified health professionals(s) for drug, medical condition, or treatment advice. The content provided on this website is not a substitute for professional medical advice, diagnosis or treatment.