Table of Contents
---
I. Why Is Eliquis More Expensive in the US?
II. How Much Does Eliquis Cost?
III. Paying for Eliquis Out of Pocket
IV. Paying for Eliquis Using Medicare
---
If you've been prescribed Eliquis and feel overwhelmed with its sky-high price tag, rest assured you're not alone. With a month's supply setting you back hundreds of dollars, Eliquis is notoriously known as one of the most expensive blood thinners in the US market.
In this article, we'll explain why Eliquis is so expensive in the US, the cost of Eliquis with and without insurance, and ways to make this medication more budget-friendly.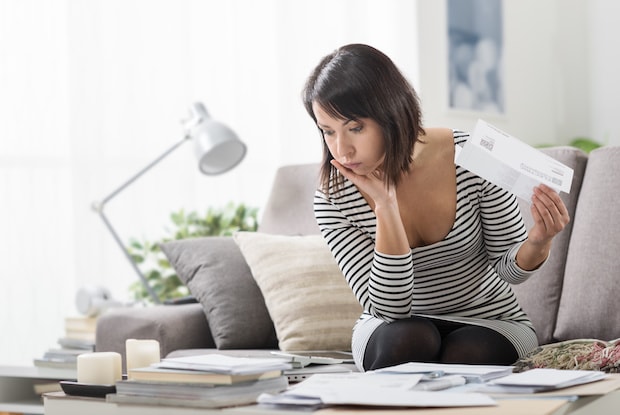 Why Is Eliquis More Expensive in the US Than in Canada?
The drastic difference in medication costs between the US and Canada is due to different government regulations.
In the US, pharmaceutical companies do not face the same price regulations that they do in Canada. The US government does not limit pharmaceutical companies' markup on a drug. [1] As a result, medication cost is influenced by consumer demand.
On the other hand, the Canadian government covers the cost of pharmaceutical drugs. Because of this, they set limits on medication prices to an acceptable level. [2] Therefore, Eliquis and other drugs are more affordable in Canada.
But don't pack your bags for Canada just yet. You can also access affordable Eliquis from a Canadian pharmacy (like RxConnected) and have it delivered to your doorstep.
How Much Does Eliquis Cost?
The amount you'll need to pay for Eliquis varies depending on your payment method and location. The table below summarizes the cost of Eliquis in Los Angeles based on payment type.

+ Based on the Cigna Saver Rx (PDP) Plan (Plan ID: S5617-382-0)
As the table shows, the most affordable option for Eliquis is a Canadian pharmacy. However, that's just one of the options you can use to reduce the cost of this medication. In the following sections, we'll dive into more detail about other payment-saving strategies.
Paying for Eliquis Out of Pocket
If you decide to pay out of pocket, you're looking at a monthly retail cost of $606.01 from US retailers or $75 if you buy from RxConnected.
RxConnected is a Canadian pharmacy approved by the Canadian International Pharmacy Association (CIPA). This means the medication you receive will be from certified Canadian pharmacies and international fulfillment centers. In other words, you'll receive medication of the same quality and caliber as medications sold in the US.
Paying for Eliquis Using Medicare
If you decide to use Medicare for Eliquis, it's essential to understand how drug tiers work. Insurance plans categorize drugs into five tiers based on their cost. Generally, the higher the tier, the higher the copay.
Eliquis falls in tier 3 (the Preferred Brand tier). The table below summarizes the monthly cost and copay for Eliquis depending on the coverage phase (assuming you start the medication in January):
+ Based on the Cigna Saver Rx (PDP) Plan (Plan ID: S5617-382-0)
How To Save Costs
While Eliquis is expensive, there are still ways to save costs and make it more friendly for your wallet. We'll dive into your options in this section.
Apixaban
Apixaban is the generic version of Eliquis and was approved for use by the FDA in 2012. This medication is just as effective as Eliquis and significantly cheaper.
In addition, you can access further savings by ordering a bigger supply of apixaban. The tables below summarize the cost of one month's supply (60 tablets) and three month's supply (180 tablets) of apixaban at RxConnected: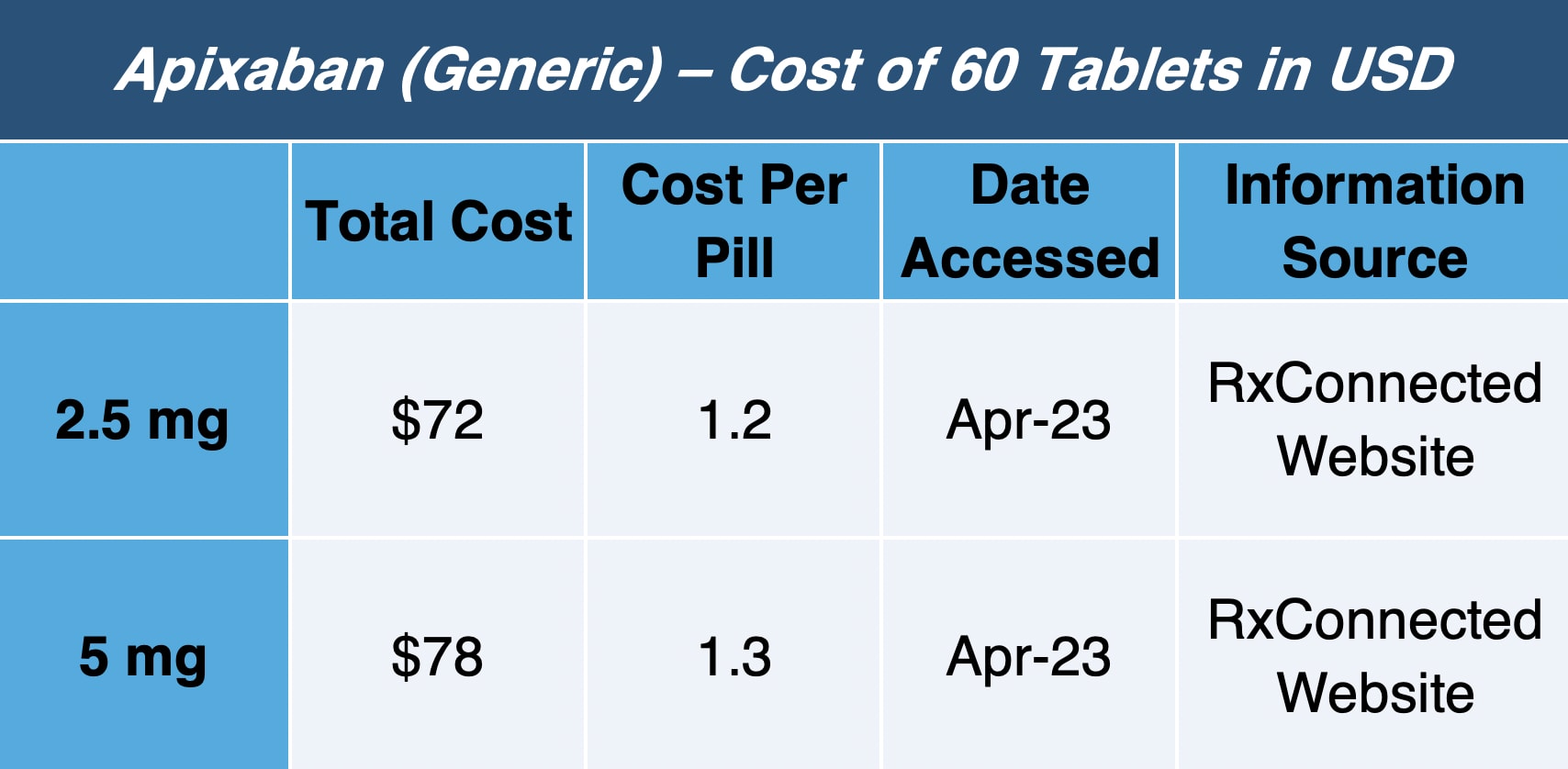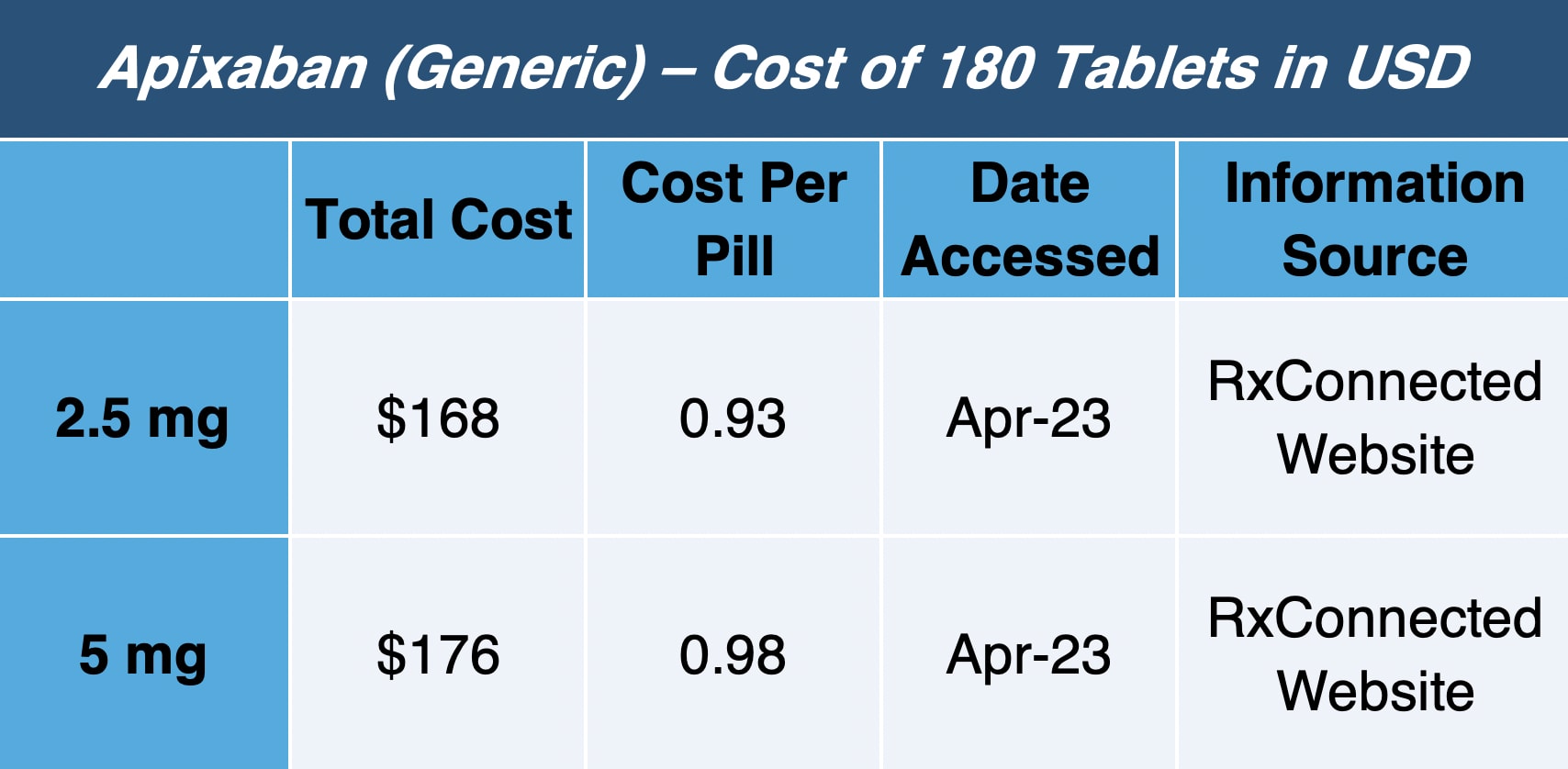 As shown in the table, apixaban is significantly more affordable than Eliquis. Furthermore, the cost per pill is significantly cheaper if apixaban is ordered in a 180-tablet supply than in a 60-tablet supply.
However, there's a catch.
Due to the patent laws in the US, the company that owns Eliquis (Bristol Myers Squibb) has been able to extend its patent on Eliquis. This means that apixaban cannot be sold anywhere in the US until April 1, 2028. [3]
Before you start packing your bags for Canada (again), we have good news: you can still access apixaban through a Canadian pharmacy like RxConnected.
But before placing your order at a Canadian pharmacy, read the next section outlining how to do so safely.
Ordering Through a Canadian Pharmacy
Ordering apixaban or Eliquis from a Canadian pharmacy is the most cost-effective solution if you choose a safe and certified Canadian pharmacy.
Fortunately, the Canadian International Pharmacy Association (CIPA) has done the hard work for you. CIPA approves Canadian pharmacies that ship internationally based on thorough and rigorous rules that the pharmacies must continuously meet. [4] This ensures that consumers receive safe medication that is just as effective as their counterparts in the US.
An easy way to see if a pharmacy is CIPA approved is by looking for the CIPA seal on their website. If the seal is valid, you should be able to click on it and be taken to a page on CIPA's website that will verify whether the pharmacy is CIPA approved.
RxConnected is proud to be approved by CIPA and the International Pharmacy Association of British Columbia (IPABC). We only provide medications that are effective and safe to use.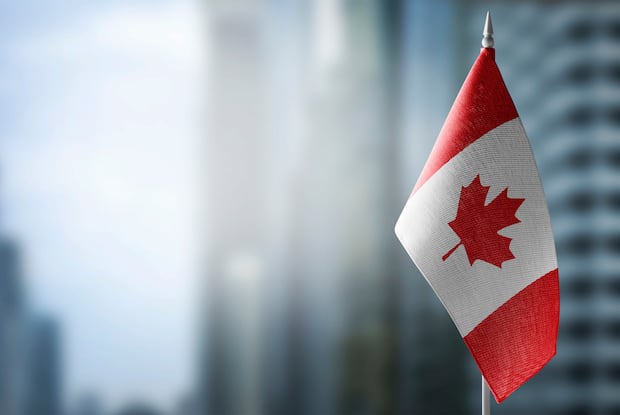 Patient Assistance Programs
The Bristol Myers Squibb Foundation (BMSPAF) is a patient assistance program that aims to help eligible patients pay for their medications. To qualify for assistance, you must meet all eligibility criteria.
For your convenience, we've included some of the criteria below:
Bristol Myers Squibb Foundation (BMSPAF) Eligibility Criteria
• The patient is receiving the medication as an outpatient
• The patient lives in the US, Puerto Rico, or the US Virgin Islands
• The patient meets the income limit for the medication (a Federal Tax Return or proof of income must be sent to BMSPAF)
• The patient does not have insurance coverage for the medication.
- OR -
• The patient has Medicare Part D and has spent 3% or more of their yearly household income on out-of-pocket payments for the medication for the current year.
Keep in mind that the foundation does not list all eligibility criteria on its website. [5] Furthermore, meeting the criteria does not ensure you will qualify. To find out more information, visit the BMSPAF website by clicking here.
Final Thoughts
Managing the cost of Eliquis can be challenging, and the complex patent laws in the US can make it even harder. Fortunately, you can still access affordable medications from Canadian pharmacies. These medications are just as safe as ones in US pharmacies but are more accessible and affordable for everyone.
To learn more about RxConnected and what we do, click here to visit our FAQ page. If you're ready to order Eliquis or Apixaban, visit our Eliquis medication page today.
The content in this article is intended for informational purposes only. This website does not provide medical advice. In all circumstances, you should always seek the advice of your physician and/or other qualified health professionals(s) for drug, medical conditions, or treatment advice. The content provided on this website is not a substitute for professional medical advice, diagnosis, or treatment.